Regular price
$600.00 USD
Regular price
$800.00 USD
Sale price
$600.00 USD
Unit price
per
Sale
Sold out
Share
For bulk purchases, please contact Tim (sales2@barluscam.com) or click on Chat with us below right to get a discount.🤑
Click below to view parameters👇
Model comparison

 

SK2-3PX10
SK2-3P6X10
SK2-4P12X10
SK5-3P5X10
SK8-3PX10
Lens
2.8mm (H.FOV:100° 

)

lens

3.6mm (H.FOV:85° )lens
2.8mm (H.FOV:100° )lens
Pixel
2 MP 1920×1080P
30FPS
1 MP 1280×720P
1/2.8" SONY CMOS sensor ,color 0.001Lux
F1.2,black/white
0.0001Lux F1.2
2 MP 1920×1080P
60FPS
1 MP 1280×720P
60FPS
1/2.8" SONY CMOS
sensor ,color 0.001Lux
F1.2,black/white
0.0001Lux F1.2
2 MP 1920×1080P
120FPS
1 MP 1280×720P
120FPS
1/1.8" SONY CMOS
sensor ,color 0.001Lux
F1.2,black/white
0.0001Lux F1.2
5MP 2592×1944P
50FPS
4MP 2560*1440 P
60FPS
3MP 2304*1296P
60FPS
2MP 1920×1080P
60FPS
1/1.8" SONY CMOS
sensor ,color 0.001Lux
F1.2,black/white
0.0001Lux F1.2
8MP  3840*2160P
30fps
5MP 2592×1944P
30FPS
4MP 2560*1440 P
30FPS
1/2.8" SONY CMOS
sensor ,color 0.001Lux
F1.2,black/white
0.0001Lux F1.2
Fill light (mobile
phone/computer
/NVR setting)
(Automatic light sensor control/manual control/time control) 3 ways
------ 3PCS white light, 10 levels of brightness,1000lumen
(Automatic light sensor control/manual control/time control) 3 ways
------ 4PCS infrared light, 10 levels of brightness,1000lumen
Image color
Two modes: 1: white light-full color; 2: infrared light-automatic color to black and white;
Product information

Features:

1: Stainless steel shell---used in seawater and freshwater environments

2: White light and infrared light fill light-----a variety of lighting modes to adapt to different environmental needs.

3: 50FPS/60FPS/120FPS high-speed video recording, high-speed capture of objects.

4: Tensile, wear-resistant, corrosion-resistant integrated cable.

5: Support RTSP, ONVIF international standard protocol to connect with third-party software, such as OBS software, etc.

Barlus underwater cameras are widely used in aquaculture cameras (fish farming, sea cucumber farming, etc.) , aquarium monitoring camera, shipboard camera, ship engine monitoring camera, marine pasture camera, underwater engineering acceptance camera, marine life detection camera, liquid operation camera for machine processing industry, Underwater machinery monitoring, Water gate monitoring of hydropower station,etc.

Focal length: 2m

Supporting device: Computer, NVR. Compatible with Haikang, Dahua and Xiongmai protocols.(Only supports windows-IE browser for camera internal parameter setting)

Supporting agreement: ONVIF, HTTP,DDNS, FTP,RTSP,RTMP,IPv4/IPv6,802.1x,HTTPS, TCP/IP, UDP, RTP, RTCP, UPNP,SMTP, NTP, DHCP, DNS, PPPOE, ;SDK Secondary development

Material: Seawater Grade Stainless Steel

Waterproof level:IP68(Permanently installed underwater)

Water pressure resistance: Maximum 500Kpa (Maximum water depth 100M)

Cable:The default length is 10 meters (the longest is not more than 80 meters),PU material, diameter 7MM. Resistance to 60KG tension, anti-aging, anti-friction,anti-corrosion by sea water, special underwater wire.

Use environment:Land/vehicle/ship/surface/underwater (fresh water and sea water)

Working humidity:0%-100%

Operating temperature: -20°~55°

Support voltage:Cable length ≤ 10 meters; 2 options:Default option 1: DC12V / POE 48V-54V IEEE.802.af power input.Option 2: DC12-DC28V / AC12-AC28V; Cable length 11-80 meters; 

2 options:Option 1: DC24V / AC24V;Option 2: POE 48V-54V IEEE.802.af power input.

Camera size: ⌀70*100mm

Weight:1.5KG

Package:1* camera,1* Camera bracket accessories,1*U disk (software and manual)
1 Year Warranty

Please use your Barlus underwater camera with peace of mind. We offer a one year warranty. If there is a quality problem with the camera it can be repaired or returned to you free of charge. Calculated from the date of receipt of the original order.
Shipping

Please do note that shipping is insured and takes 6-10 business days worldwide. However, you may receive your items earlier. Tracking Numbers will ALWAYS be sent so you can track them every step of the way! Cool things are worth waiting for!
100% Risk-Free Purchase

If you bought it and felt that it has some problem, don't worry. Just shoot us a message at contact zhangli@barluscam.com and we will make it right by offering you a replacement or refund. 100% Simple & Risk-Free process.
Guarantee safe transportation& secure checkout
View full details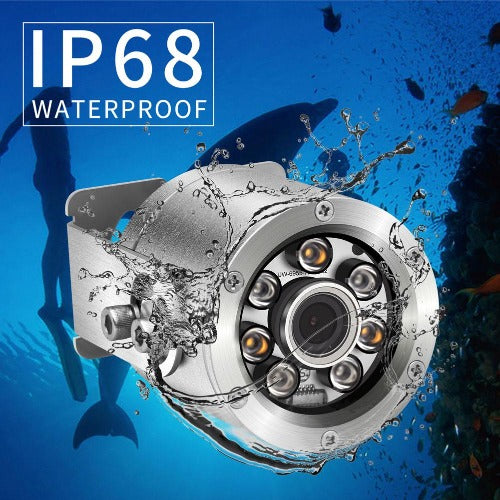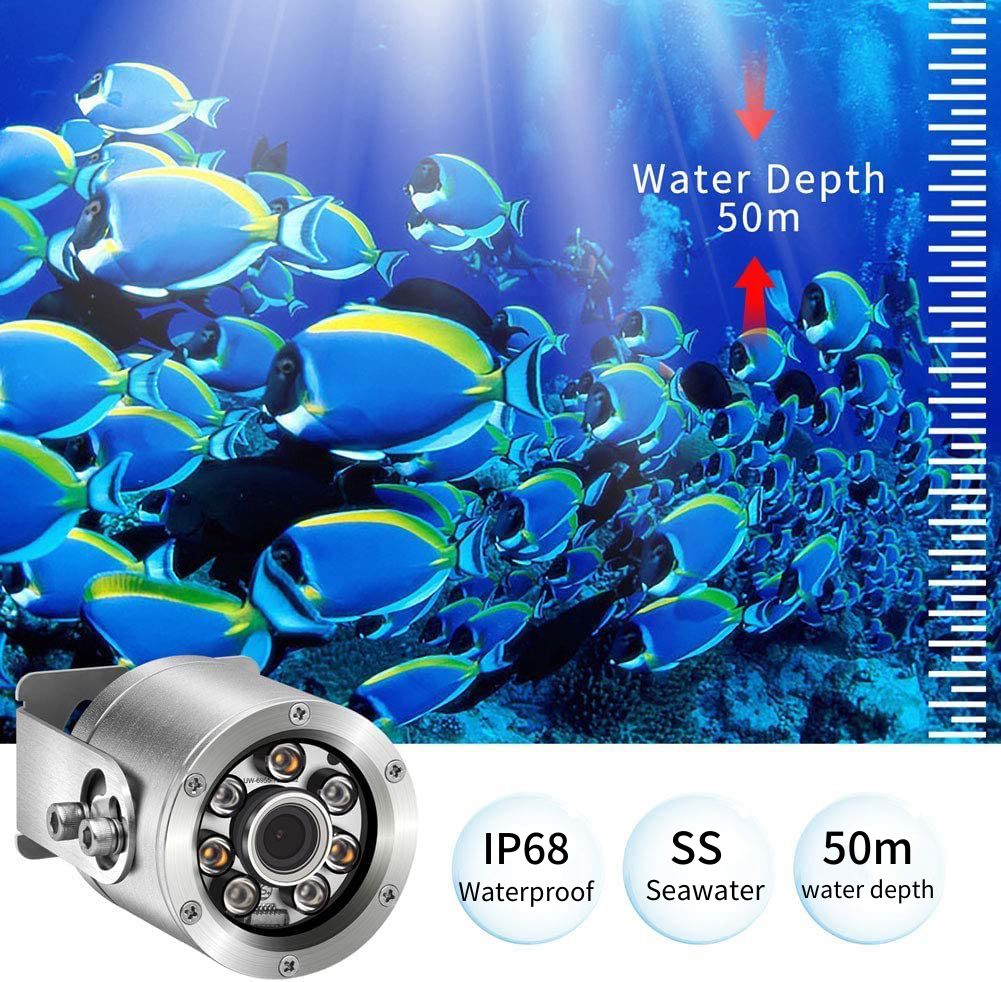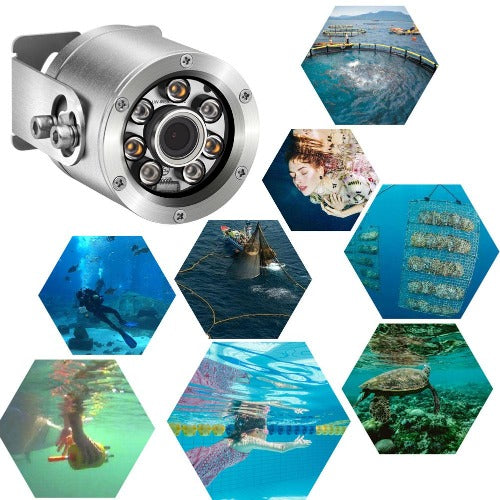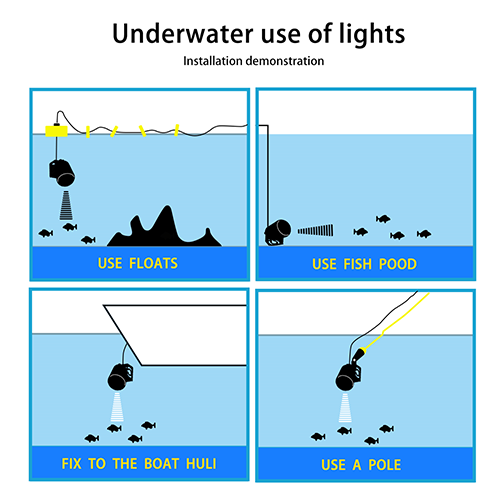 About us
Barlus is a manufacturer that has always been dedicated to creating professional and practical underwater surveillance cameras. Feel free to contact us for any further needs!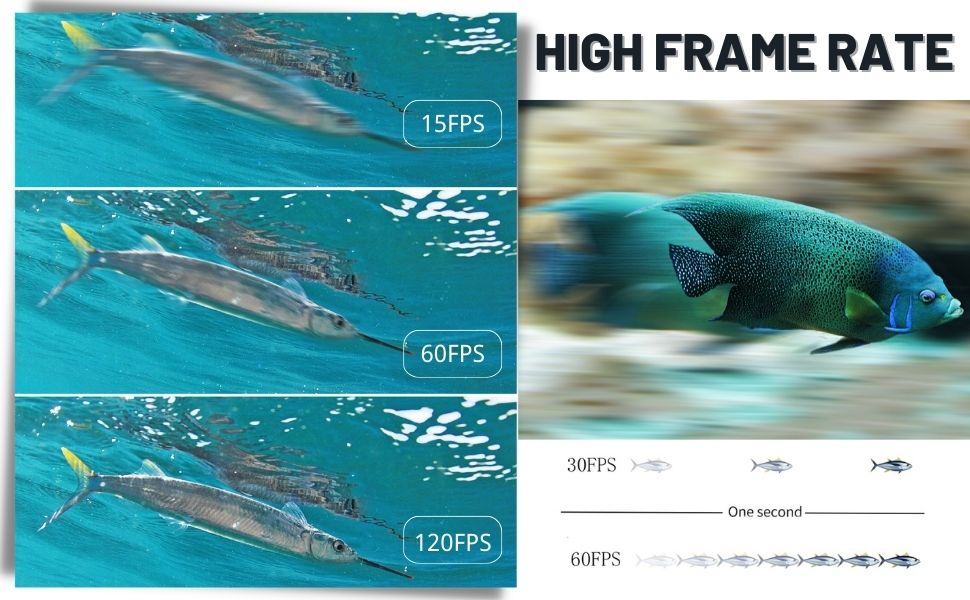 30FPS/60FPS/120FPS
The high frame rate allows you to capture smooth slow motion video, making your footage more exciting, more immersive and ultimately more fun!Enjoy high speed action sequences beyond the limits of human vision. The Barlus offers a new way to see the world from a unique point of view.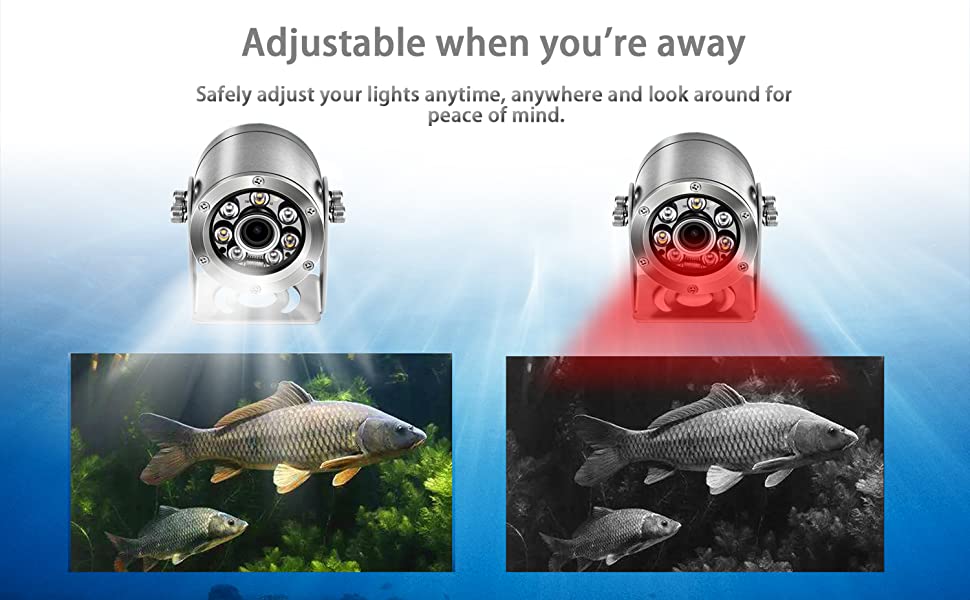 Smart fill light
4 infrared + 3 white LED cameras, photosensitive IC automatically senses the environment, supports 10-level light brightness adjustment, and can freely adjust the light intensity according to needs, which is more convenient when fishing. Turn the lights on and off as you like.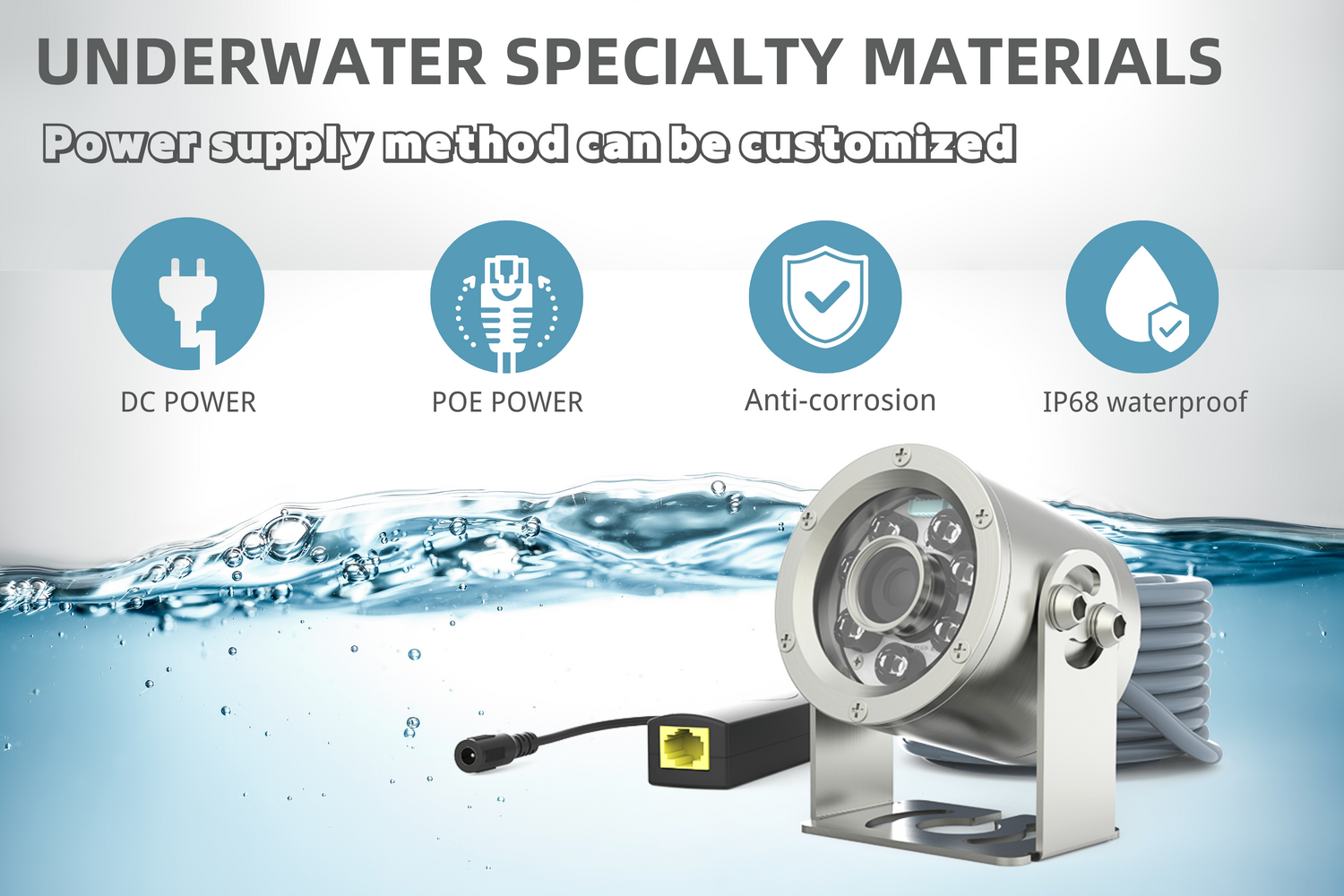 Professional and Safe
💪Camera housing and cable are made of special underwater materials, more durable and less likely to rust, with extreme corrosion resistance waterproof. It can be fixedly installed in seawater for a long time.
👉POE or DC power supply is optional.
Easy installation: POE cameras only need an Ethernet cable to provide power and data, no separate power cable is needed, reducing the complexity of installation.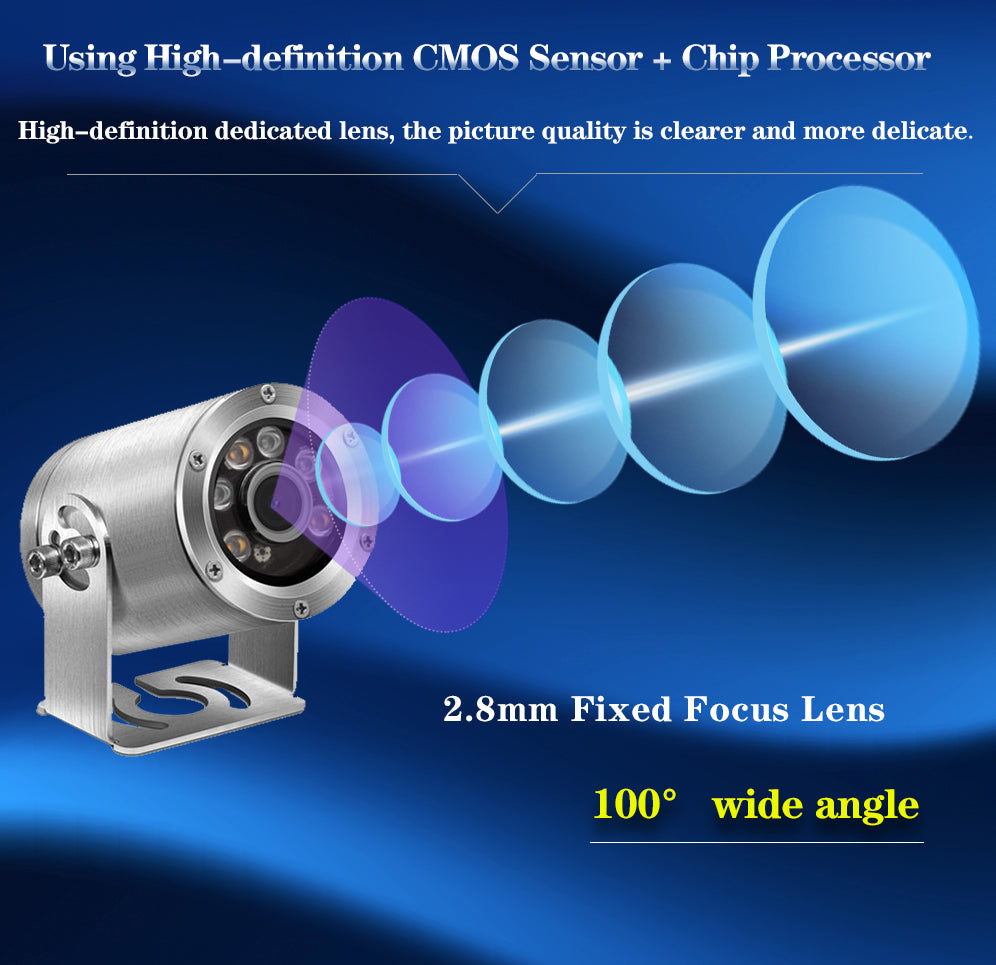 The Barlus Underwater Camera offers exceptional detailing with its up to 8MP high-definition CMOS sensor,while users can capture beautiful HD videos in real time directly on to their devices as they are being recorded.this camera is excellent for recording all types of water life and stunning new aquatic environments.
Underwater viewing

Aquaculture

Underwater Engineering Monitoring
Perfect for saltwater environments
"I installed a BARLUS Marine 316L Stainless Steel 5MP 2.8mm, IP68 Camera under a hotel pier in the Caribbean so customers can check out the camera stream to enjoy the very same place they spent time snorkeling and scuba diving. I used an ONVIF discovery tool to identify the RTSP and RTMP stream URL (both main and sub channels) and ported that URL to ipcamlive (www.ipcamlive.com is a media server). Then coded the media server stream into an HTML5 WEB Page. I intend to purchase several more cameras from Barlus from similar projects. I will post the URL stream after I get permission form the property owner.
I also configured the TinyCam Android app for direct hand phone viewing with no problem. The MKvision app also works but I wanted to test other apps and had no problems.
In this underwater application I tested for a few days and decided the night time IR LED lights were not necessary so I disabled them using the PTZ preset function to turn them off.
I also experimented with several on-line media servers to convert the Barlus camera RTSP stream to RTMP for YouTube Live streaming. Worked very good but decided to go with a fixed HTML5 compliant web page instead of YouTube Live.
Note, if you do not have the upstream bandwidth to stream the high resolution main channel you can also select the smaller resolution sub-channel which is still very good.
My conclusion is this is a very good camera and recommend it for underwater projects. 304 stainless steel is good for fresh water but make sure you order 316L for salt water. You can produce a very good video stream from this camera.
If you just want to install the camera and use the iphone, android or PC app, they all work great with no software knowledge required.
The camera also worked fine driving an additional 200 feet of CAT5e cable to a router."
Great underwater camera
I use it to view koi in a large koi pond. The mechanical part of the product it very sound. I have needed some help to get the software and internet access to work properly. During those times someone from the company was able to remote into my machine and help sort out the settings. I looked at many underwater cameras and this feels like an excellent fit for the price point.
High quality picture in low and normal light. Linux-usable.
Works over standard protocols, so compatible with raspicamplayer and such. Management software is mostly Windows and Mac but partially works on Linux with Wine. You can manually add camera and modify configuration. The android app also allows configuring the camera but not as much as the included Windows tools.
Great Build Quality, Good Value
Upon quick receipt of the camera, I was immediately struck by the build quality. It weighs in at an honest-to-goodness 4+ pounds; very nice finish. As a total video streaming newbie, it took several tries to get a live stream up on YouTube, but I am very happy with the results.
Well built and very good video quality
"This is my third purchase of these cameras and have to say of all the under water cameras I've used in my Koi pond, these are by far the best built cameras I've used.
I've attached some pictures captured from the cameras, and some of how I mount them in my straight walled pond for easy relocation and mounting depth adjustment.
I leave the PVC unpainted as it will become covered in algae over time but could be painted with a pond safe paint
These pictures are without any external or internal light source other than a cloudy day, you can see one of the other cameras across the pond in the first 2 images."