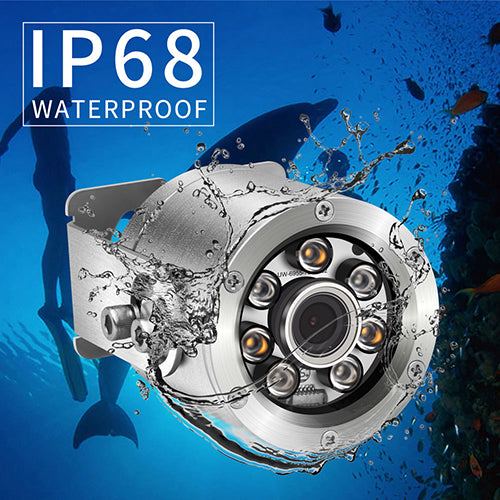 Be Your Underwater Eyes
Barlus has been focusing on the innovation and research and development of various high-end underwater observation camera industries. Products are widely used in various underwater scenes, choosing us will provide you with an excellent experience.
Shop now
Barlus' fill lights all support remote adjustment
💡💡💡Click to view more💡💡💡

As we all know, light is very important underwater. The addition of light makes your shots underwater clearer and more visible, widening your fieldof view.

 

Barlus underwater cameras with fill lights are remotely adjustable. There are two types of lights, infrared and white fill light, and the power level can be freely adjusted. It is also possible to switch the light mode to automatic control or manual control (you can permanently turn off the light and turn on the fill light). Superior lighting control mode, conducive to different animal growth needs.

Automatic mode: photosensitive IC senses the environment. When it senses that the ambient light is weak, it will automatically turn on the white light to fill in the light. When sensing the arrival of night, will automatically open the infrared light mode.

Manual mode: The light mode can be adjusted to manual mode on the computer, so you can adjust the light brightness and type according to your needs. You can choose to turn on or off the light, you can switch between white light or infrared light at any time.

Timer on/off light function: All of our K series cameras support it (those with the letter K in the model number). If you need this function, welcome to buy our K series cameras.

PS: The color of the light as well as the mode can be customized by contacting us, as long as you have demand, welcome to consult us!

(IPC4MPIR-BX10 only supports automatic mode)
Right-hand Man Barlus
You can see every precious moment with an underwater cutting-edge smart camera at the most affordable budget. Safeguard your underwater world,24/7!
Let customers speak for us
Great picture and a solid underwater camera.
"First of all, this is a quality camera with good construction and a great picture. There is not a lot in the box, but the box is sturdy and you can use it as a carrying case to move and store the camera. It comes with a solid camera and 5 meters of cord which is around 15 feet. There is some discrepancy on the listing it says 1440P in the listing and 4 MP, but in the description it says 1080p and 5MP. if I had to guess its 5MP and 1080P, but regardless the picture is flawless. I did not test it underwater, but inside my house it was as good as or better than any of my indoor or outdoor cameras.
It is a little expensive, but its rated IP68, so it should be good from 1 to 5 meters or so. The construction is top notch and the camera has a heavy feel to it. It also comes with sturdy mounting screws. The casing is stainless steel and is fog free and durable. I got this to put in my pool as sort of a cool thing to show people, but this can be used in a variety of means, such as Koi ponds or general observation.
The USB drive with the manuals on it are fantastic. It also had videos on how to set it up. My only issue is that I guess because its a Chinese product there is no sound on the video, so you really have to pay attention. I spent some time rewinding it to get it setup up. I wont say setup is really easy, but if you have some LAN and computer knowledge its not difficult.
Make sure during setup you click allow network otherwise it wont show you the IP address, also make sure they are plugged into the same network. I have a few networks setup and forgot that. There are several ways to set this up and it includes POE, which if you have a switch that utilizes POE then you don't need the power cord. I do not, but I might get one for this. POE is essentially Power over Ethernet, which turns your Ethernet cord into a power cord as well.
Overall this was semi-easy to setup for someone knowledgeable, but I could see this being hard for a computer novice. they do have support. The picture quality was fantastic and its a great camera for your underwater needs."
8.HD Wide Angle Underwater IP Camera for Saltwater and Freshwater Aquaculture
Charitable activities
Letter of Thanks From a School in New York

Barlus has been striving to take social responsibility for many years, constantly improving and perfecting our values. To spread the value orientation of pursuing a good humanistic environment to the public and to promote social progress is the direction that Barlus has been striving for.

As a corporate citizenship, Barlus will actively participate in public welfare activities.We donate our Barlus underwater camera to a school in New York.
Here is their letter of thanks to Barlus:
Remote software support
About Teamviewer

Remote software support: Teamviewer

 

Use opportunity

Barlus has been producing professional safety and high-tech underwater cameras for many years. We are a Chinese company. Because we promise to give customers the best customer service, we will spare no effort to help customers with after-sales problems. As we all know, our products are sold all over the world, and the use of remote access software greatly facilitates the contact between us and customers.

After continuous exploration by Barlus, a remote software with high safety factor was finally determined in the market for our long-term use. Haven't had any issues with security breaches in years of customer service.

In addition, Barlus solemnly promises that the use of Teamviewer remote software is only for the convenience of providing assistance to customers around the world, and there is absolutely no behavior that can obtain any customer information. At the same time, we also ask our customers to actively supervise.

About TeamViewer (https://www.teamviewer.com/en/company/)

Company Profile:

TeamViewer is a leading global technology company providing a connected platform to remotely access, control, manage, monitor and repair any type of equipment - from laptops and mobile phones to industrial machines and robots.

Although TeamViewer is free for private use, it has more than 620,000 subscribers, enabling companies of all sizes and industries to connect seamlessly. Since the company's founding in 2005, TeamViewer's software has been installed on more than 2.5 billion devices worldwide. Headquartered in Goppingen, Germany, the company employs around 1,400 people worldwide. In 2021, TeamViewer achieved a bill of EUR 548 million.

TeamViewer AG (TMV) is listed on the Frankfurt Stock Exchange and is part of MDAX.

 

How to use Teamviewer

Download the software on the official website of Teamviewer. After logging in, an ID and password will be randomly generated on the page. With this ID and password, others can access your computer remotely.

Teamviewer is safe, compatible and high-performance: 

Authentication and Password: Connect securely to any device. All you need is the TeamViewer ID and the user's randomly generated password.

Encryption: All TeamViewer connections are end-to-end encrypted. Anyone who shouldn't see the content of the connection, including us.

Granular Rights Management: Use TeamViewer's Conditional Access to control access to devices across your organization (requires a Tensor license).

 

Why choose Teamviewer

Work anytime, anywhere with full access to any device.Stay productive anytime, anywhere, with unrestricted access to all your files and applications, as well as your mobile devices and servers, with the permission of your customers. (ps: If you modify your verification number and close the Teamviewer software. We will not be able to access)
Provide instant remote support to customers and employees. With the most secure and robust support platform on the market, you can forget about expensive onsite visits and resolve any IT issues remotely. Compatible with almost any device - including headless devices such as servers.
Support any mobile device.Let remote workers work from anywhere with the broadest device coverage on the market. We cover all Android devices and also offer iOS screen sharing - an industry first.
Best-in-class usability and performance.Out of the box, no installation or complex configuration is required. Qualitest ranked #1 in comprehensive technical performance tests that evaluate usability, image quality, and file transfer speed.
Relentless focus on safety.TeamViewer is protected by end-to-end 256-bit AES encryption, two-factor authentication, granular access management, device authorization and other industry-grade security features. We are fully GDPR compliant and SOC2, HIPAA/HITECH, ISO/IEC 27001 and ISO 9001:2015 certified.

 

The above is the reason why we finally chose Teamviewer. If you want to know more, please go to the official website of Teamviewer. It's just a relatively safe tool that we use to serve our clients. Its ultimate purpose is to be able to provide customers with better service and better solve problems that customers cannot solve. Thank you for your cooperation.
Multimedia collage
Regular price
From

$700.00 USD
Regular price
Sale price
From

$700.00 USD
Unit price
per